Kakadu Plum(25th August 2021):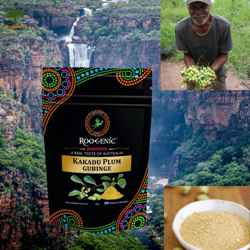 The fruit from the kakadu plum tree is known by many names: gabiny, gubinge, mardorr, kabiny, bush plum, murunga, salty plum, and billygoat plum. It's one of 28 Terminalia species or subspecies that can be found in tropical Australia. The species is only found in Australia, in the top part of the Northern Territory, eastern Arnhem Land, and the Kimberley region of northern Australia. Aboriginal culture regards the kakadu plum as a gift from the ancient past, and it has been a staple bush food for people in Northern Australia. The fruit is generally eaten raw, but it is also used as an ingredient in jams, sauces, as well as in beauty items including body lotions, cleansers, lip balm, and hand cream. The fruit has a significant amount of vitamin C and has excellent antioxidant properties.
8 benefits of kakadu plum:
Filled with the goodness of Vitamin C Kakadu plums have the greatest natural concentration of vitamin C of any food on the planet. Just 3.5 ounces (100 grammes) of the fruit will meet almost 3,000 percent of your daily requirements. Vitamin C is a powerful antioxidant that helps with chronic diseases, regulates blood pressure, lowers the risk of heart diseases, boosts immunity, aids better iron absorption and enhances brain function. Kakadu plums' vitamin C concentration depletes quickly after picking, thus the fruits are frequently frozen for transportation and sale. Additionally, when these fruits are cooked, their vitamin C concentration is diminished and therefore it is better to consume them, raw.
Rich in antioxidants
The antioxidant content of kakadu plums is very high. Antioxidants fight free radicals. Free radicals form naturally, but a poor diet, as well as environmental pollutants such as air pollution and cigarette smoke, can boost their concentrations. Excessive concentrations of these free radicals can be harmful to your health and create oxidative stress. Consumption of this antioxidant-rich fruit can lower your oxidative stress and reduce your chances of getting chronic diseases.
The lutein content of the kakadu plum is high. Lutein may reduce your chances of developing chronic eye illness or cataracts. Kakadu plum is also high in Vitamin C and E, which can help prevent cataracts, vision issues, age-related macular degeneration, and tissue loss.
Natural antibacterial qualities in kakadu plums may make them effective for preserving goods and reducing foodborne infections. Food-borne bacteria such as antibiotic-resistant Staphylococcus bacterium and Listeria monocytogenesare inhibited by water-based and methanol kakadu plum extracts, according to research. As a result, Kakadu plum extract-based food preservation techniques could be a natural and safe alternative to synthetic approaches.
Omega-rich fatty seed oils made from kakadu plum can aid wound healing and keep the skin moisturised. Vitamin E aids in the reduction of wrinkles and age spots. Vitamin C boosts collagen formation, decreases hyperpigmentation, and prevents photoaging skin changes. Zinc, Vitamin E, lutein, folate, iron, and other minerals and antioxidants present in kakadu plum nourish and energise skin prevents premature ageing. In addition to this, because of the fruit's anti-inflammatory characteristics, it's been used in several skincare and acne-fighting products.
Kakadu plum hydrates the hair. It works as a great conditioner for the hair by keeping the levels of collagen and elastin in check, both of which are necessary for healthy, glossy hair. It makes detangling of the hair smooth and hassle-free.
Reduces chances of Alzheimer's
The antioxidant properties of kakadu plum are seven times greater than curcumin. Antioxidants found in the Kakadu plum fight free radical damage and may be used to treat Alzheimer's disease.
Shields from inflammatory diseases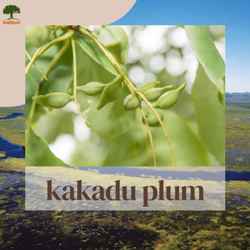 Kakadu plums may aid in the prevention of inflammatory disorders like rheumatoid arthritis. Certain infections can set off rheumatoid arthritis. In a study, kakadu fruit and leaf extract was found to suppress the germs that cause these diseases. This is most likely owing to the high tannin content of this fruit, which derives from ellagitannins, a type of ellagic acid.
Is kakadu plum safe for consumption?
Both oxalates and vitamin C are abundant in Kakadu plums because of which excessive intake of the fruit has resulted in the formation of kidney stones, in some cases. Besides, the seeds of the Kakadu plum can be poisonous. Therefore, consuming too many of them can adversely affect your health.
Final Thoughts
This native Australian fruit is a storehouse of essential vitamins like Vitamin A and Vitamin E, along with anti-oxidants and lots of minerals. If you are someone who is looking for a natural way to strengthen your immunity, there is no harm in including this fruit in your diet.
References
https://www.healthline.com/nutrition/kakadu-plum-benefits#Potential-Risks
https://www.webmd.com/diet/health-benefits-kakadu-plum
www.healthbenefitstimes.com/health-benefits-of-kakadu-plum
Healthboost Products:
Check your Body Mass Index (BMI):