Meet the New Superfood! (17th April 2021):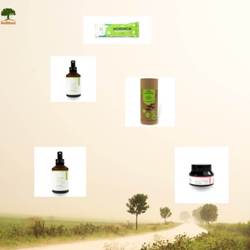 Most of us are aware of kale and matcha. But, have you heard of the amazing new grassy-hued food that has started making waves in the supergreens kingdom?
Although its name may sound more like a salsa dance move rather than a superfood, you can never underestimate its natural immunity-boosting capacity.
Any guesses? Yeah, you are right. We are talking about Moringa here.
It's another precious gift of Mother Nature that is finding its way as a powerful ingredient in juices, smoothies, and booster shots worldwide. Being native to certain parts of South Asia, every part of the Moringa tree provides tons of health benefits!
To make the most out of the products containing Moringa extracts, keep reading!
Irregular sleeping and eating habits can make you consume unhealthy foods. Without proper nutrition and a timely diet schedule, our body cannot function at its best. However, Moringa can improve our bodily functioning with its rich nutrient density.
In fact, it's so powerful that a science journal review once stated that it provides more than 7 times the Vitamin C of oranges and the Vitamin A of carrots!
Moringa Magic!
Rich in Antioxidant Content:
Most illnesses can be traced to cell damage. But, what causes cell damage? Free radicals! And, Moringa is loaded with antioxidants that can eliminate these free radicals from your body.
With Moringa, you can have better control over your blood sugar levels.
Anti-inflammatory Properties:
A little bit of inflammation or swelling may be a sign of your immune system fighting off an infection. If inflammation becomes chronic, it can trigger heart problems and arthritis. So, consider incorporating Moringa into your diet. Say goodbye to swelling!
Promotes Bone and Joint Health:
The leaves of the Moringa are particularly helpful in reducing pain and stiffness in your bones and joints.
Of course, the list doesn't end here. The leaves and stems of Moringa have been traditionally used to treat mental disorders, chest congestion, ulcers, tumours, blood impurities, and more!
In the wake of coronavirus, let's all do our bit by strengthening our immune system. Now that you know how beneficial Moringa can be, please make it a point to include it in your regular diet. Stay protected. Keep yourselves and your loved ones safe!
At Healthboost we have a range of moringa products so please come and check them out at our store, or call us to discuss on 0268819494.
Healthboost Products:
Check your Body Mass Index (BMI):